Barbitos or Barbiton is an instrument of the Lyra family and resembles a Lyra, but it has longer arms and narrower sound box.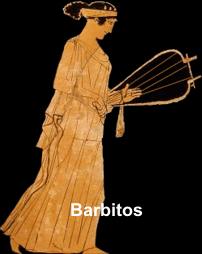 Sokféle verzió kering, én erre gondoltam.


The barbitos is first mentioned in archaic lyric poetry (Alceus, Bacchylides, Simonides, Sappho), and is especially associated on vase paintings and in literature with the Ionian poet Anakreon (Anacreontea 2,15,23,42,43,60). On an Attic red-figure kalthoid (Munich 2416), Alcaeus and Sappho are depicted holding the instrument, further evidence that it was a popular instrument as acccompaniment for singers.
It was also popular as entertainment at drinking parties and during festivals such as the Dionysia and the Anthesteria. In vase paintings from the Classical Period the barbitos is played either in a seated or standing position, by both women and men. Unlike the chelys-Lyra, the barbitos was not used in music lessons because, according to Aristotle, it was designed purely for pleasure, not for education.

Nem találtam meg, hogy pontosan hány húrja kellene, hogy legyen, de arra jutottam hogy vagy 4-től 8-ig terjedhet, vagy hogy több mint 7 (ami a lanton van állítólag)... szal legyen 8.

Nem, nem becézem 'Barbi'-nak. ( XDD bár poén lenne! ) és van egy táskám hozzá hogy biztonságosan szállítható legyen. : D